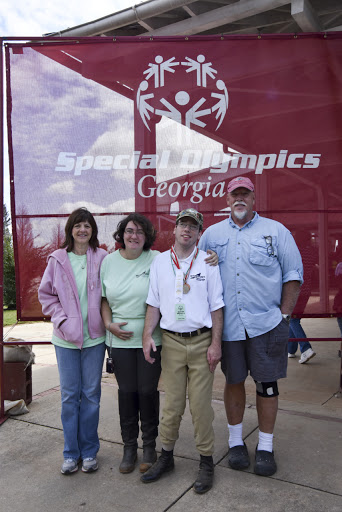 Our son Joseph Knox Williams is 31 years old. He has been special needs since birth due to Cerebral Palsy. He began therapeutic horseback riding when he was ten and during the next several years he had riding lessons and competed in Special Olympics. Because of his physical disabilities he was unable to ride unless he had at least three people assisting him, one on each side of his saddle and one to guide the horse. He improved some during these years, but at no time was he able to ride by himself.
The stables where he rode closed and for several years he did not ride. In 2014 he began taking riding lessons again, this time at "Beyond Limits Therapeutic Riding", with Kristen Moreland. He started out the same as he had before with at least three people to assist. He started gradually improving to the point where he no longer needed one person on each side of the saddle and could manage with just one to help stabilize him and another to guide and direct the horse.
Gradually over time, we could tell a difference in his riding. He had never been afraid of horses, but his confidence always seemed to be lacking. He slowly gained more confidence as well as physical strength in his legs and hips. He was able to control the horse better and needed less "hands on" attention.
He rode this way through the first year and competed in the Special Olympics in Gainesville in 2014 with a great deal of success. After the Olympics he continued taking lessons. For the first time ever his mom and I were able to watch him ride unassisted and without guidance. He slowly began trotting unassisted as well and we could see a big increase in his confidence and his balance and strength. In addition to his riding, he has learned about care and maintenance for the horse; saddling, grooming and washing the horse along with storage of the equipment.
His mother and I would like to see him continue riding each week because of the improvements in his personality, confidence and skills. More importantly, Joseph wants to continue riding lessons, in fact he considers it a part of his weekly routine. He enjoys it and looks forward to it and sometimes can't even understand why we have to cancel due to the weather at times. He has exceeded our expectations. We never thought we would see our son ride and trot unassisted, but thanks to "Beyond Limits" and the work of Mrs. Kristen and her assistants, that goal has been accomplished.