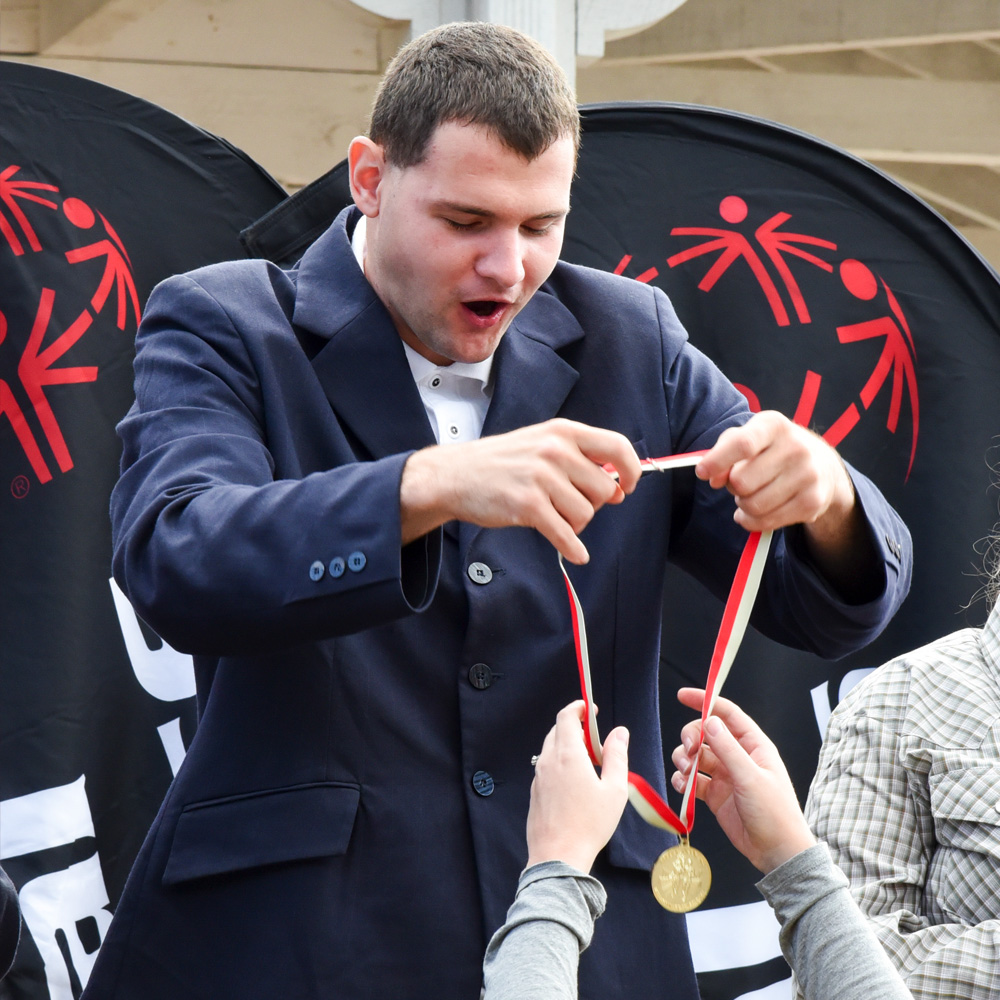 It is with great pleasure I write to you about my nephew Anthony Jones, and his awesome experiences in Therapeutic Riding, and in life. Tony, born into the socially awkward and confusing world of Autism, is now a 24-year-old high school graduate, gold medal Olympian, and working citizen. I am honored and humbled to have custody of him, and get to enjoy life with him; even with all the ups and downs raising an autistic person comes with.
Tony has had a passion for riding since his first lesson with Kristen Moreland, his PATH Registered Therapeutic Riding Instructor, almost 8 years ago. Throughout those years he has flourished in the saddle, and in life. Riding has taught him responsibility, given him a sport he can succeed in and continue to progress with, and of course his favorite part, the opportunity to compete! The Special Olympic Horse Show is the highlight of the year for Tony, as soon as it is over, he is already planning his success for the following year! He has competed in the show for the past 7 years with Kristen as his coach, but this year has been his most successful. He brought home 4 gold medals out of the 5 classes he competed in and he was entered in the highest level offered which requires independent riding at the walk, trot and canter. I have never seen him as excited as he was that entire weekend.
When Kristen left her position in 2013 to help kick start Beyond Limits Therapeutic Riding we knew we had a new home too. She has done such a great job instructing and molding him in to the young man he is today, we would follow her anywhere. Beyond Limits has given him more opportunity to grow in his riding, with high quality horses and a wonderful team of volunteers, he has thrived in the past two years more than ever before. He independently gets his horse from the paddock, tacks it up by putting the saddle on himself, and mounts unassisted as well. Being able to be independent at the barn has given him the confidence to be independent at home, at work, and in other environments too. It has also helped us to see the potential in him and push him to new levels at home. Sometimes even caretakers like me get tired of the battle, and put limits on what we believe can be achieved in the lives of the ones we love. But with every new success at the barn we get revived, we grow in strength and hope, and are reminded that limits do not exist, but only in our minds.
The team at Beyond Limits has given us as a family so much more than just riding lessons. My daughter helps volunteer there as well, and got to be Tony's Unified Partner at the Special Olympics this year. Together, they won the gold medal for Unified Drill, but more importantly it has given her a little insight into his world. They get along better at home after that experience, and have a better understanding of each other. That opportunity to learn together would not have been possible, and my home would not be as peaceful, without the efforts of the staff and volunteers at Beyond Limits. I can't thank them enough for the positive impact they have had on my entire family, and I know there are many more families just like mine with similar stories, and even more families that are in need of this experience!
Sincerely,
Mary Callahan