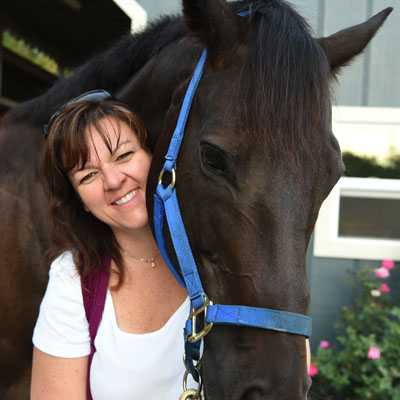 Kimberly Oviedo, Executive Director
Every organization has a visionary, and Beyond Limits is no exception. We are lucky to have Dr. Kimberly Oviedo at the helm as our Executive Director and co-founder. Her passion for the special needs community is infectious, and her work ethic and integrity are unparalleled.
Graduating from California State University's prestigious audiology bachelors and masters programs and from the Arizona School of Health Sciences Doctorate in Audiology program, Kimberly has proven that she is not afraid of hard work. She is a licensed clinical Audiologist practicing in pediatric audiology since 1992, dedicating her career to working with special needs children, developmental pediatricians, neurologists, psychologists, and early intervention programs. In 2014 Kimberly opened a successful private practice pediatric therapy center that provides audiology, occupational therapy, and speech and language pathology for special needs children ages birth through 21.
Her experience led her to see the need for more adaptive resources in her community, and her vision grew into reality when her special needs daughter experienced a bond with a horse. In November 2013 Kimberly and her husband purchased her daughter's first horse, a dreamy thoroughbred named "Sport," and the wheels that founded Beyond Limits were set in motion. This was the needed alternative outlet that enabled her daughter to grow socially, physically, and cognitively.
Today, Kimberly oversees the day-to-day operations, all funding and public relations aspects of the organization and works side by side with the dedicated volunteers who comprise the advisory board. They donate their time, and together they are changing the lives of the many children and adults served by Beyond Limits.
Kimberly is dedicated to offering a variety of therapeutic opportunities to special needs children and adults, and she serves by helping each client of Beyond Limits reach his or her potential. Kimberly's leadership and vision is an inspiration to all.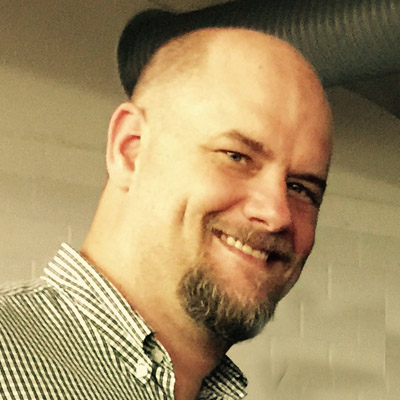 Brian Tinsley, Secretary
Brian Tinsley helped establish Beyond Limits and is today the Board Secretary for the organization. He is actively involved in funding efforts and helps with the day-to-day operations. His passion for the riders, their families, and the horses leads him to devote his personal vacation days each year to assist our team at the State Special Olympic Horse Show, an annual event highlight for our riders.
A disabled U.S. Navy veteran, Brian served six years in the Navy and spent 10 years as a plumbing and HVAC contractor as he moved his way up to job-site superintendent. Brian then returned to college where he earned a Mechanical Engineering degree from Georgia Institute of Technology and began designing plumbing and HVAC. Today, Brian is a Mechanical Engineer with Primus Builders, a top nationwide engineering firm.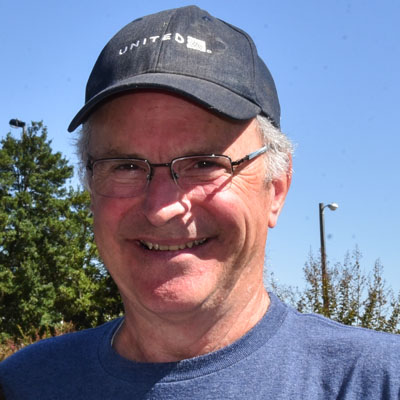 James Miller, Treasurer
As Treasurer of Beyond Limits Therapeutic Riding, Jim became involved with the program during its initial planning stages, and remains a dedicated volunteer and board member. Although Jim currently resides in West Virginia, he makes several trips to Cartersville each year so he can work directly with the program, and when in West Virginia, he remains in constant communication with our group. As "back-up" photographer for our events and an annual volunteer at Special Olympics, Jim is recognized and loved by everyone.
Jim is a retired Logistics Supervisor for Crane Flow Control where he worked until he retired to care for his wife of 24 years who was stricken with Alzheimer's.  She passed away 4 years after his retirement.  When not spending time with work related to Beyond Limits, Jim enjoys his 3 children and 2 grandchildren.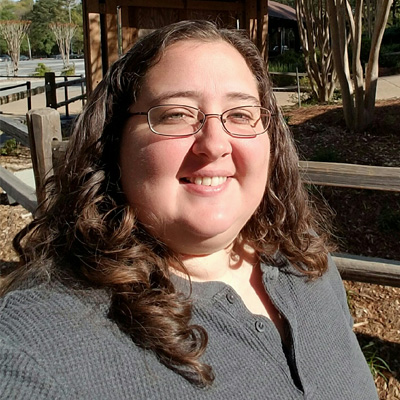 Melissa Adams
We are so thankful to have Melissa Adams as part of our Leadership Team. A native to Cartersville, and a 17 year member of the Special Needs lifestyle, she has wonderful insight into our local community. Melissa has been with us since inauguration, her daughter being one of the original riders of Beyond Limits. Her heart for progress, forward thinking, and creativity have made her an asset as we continue to grow. Whether it is a dirty barn chore, horse involved task, administrative duty, or a PR opportunity, Melissa is happily on-call and always willing to help. Her initiative is undeniable and unsurpassable. She is the face of our organization at many of the local fairs and awareness campaigns.   As a parent or guardian, if you need to know information for local resources, be sure to reach out to Melissa!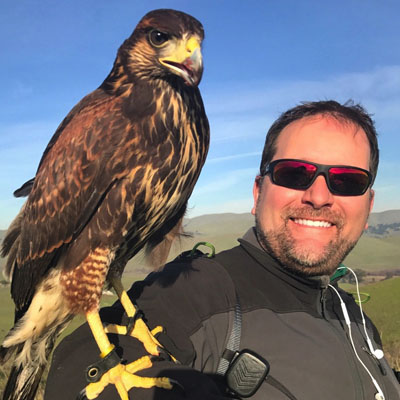 Rob Black
We are excited to have Rob Black on our Advisory Team. Rob has been with us since inauguration and is one of the co-founders of Beyond Limits.  Serving across the country from California has its advantages as Rob's primary role is to help to find funding for BLTR from sources outside of Georgia.  In addition, Rob has found remote volunteers to work on brochures, social media, and the Beyond Limits YouTube channel from the west coast, we truly have no limits!
Growing the future generations to reach their potential is a passion of Rob's and we are happy to offer him another outlet to influence. A graduate of Sonoma State University in 1996, Rob has enjoyed being a high school Physics and AP Calculus teacher for the past twenty years. He has been the recipient of numerous teaching awards including the City of Vallejo teacher of the year award and was nominated as one of the top five teachers in the state of California by Comcast.
Rob's other passion is flight, except he prefers jumping out of the planes rather than staying safely on the inside! He also runs a thriving paragliding school and tandem paragliding tour company in Northern California.  His goal is to get everyone in the air including wounded veterans, paraplegics, special needs children, and anyone who wants to fly! His zest for life and enjoying it to its fullest is contagious to everyone who meets him. We are thankful and appreciative of him dedicating his time and talents to our organization!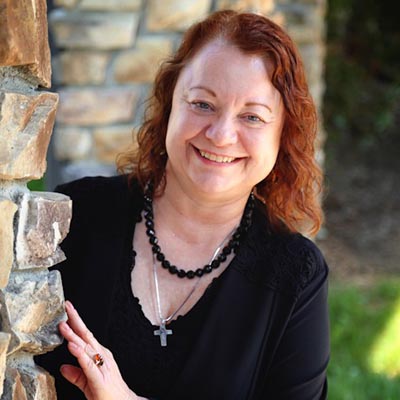 Betty Boyd
Betty Boyd, a Pennsylvania native moved to the Tennessee Valley in 1994. My passion has always been both writing and photography. I am an artist at heart. God has given me these gifts to inspire others, to help others and to give back to the community.
After retiring in 2012 and I knew there was more that I was supposed to do. I started www.bettyboydwriting.com, which offers writing services to clients and companies.
My purpose is to serve God and my fellow man. The gift of writing I have received, I hope to this for the rest of my life.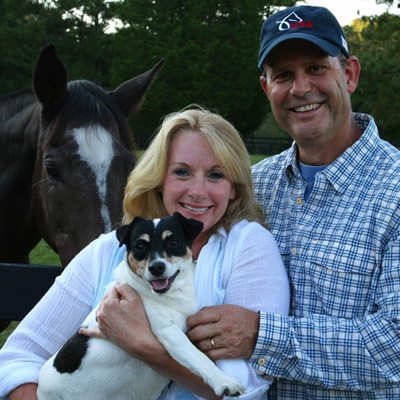 Paula Caras
Paula Caras, the newest member of our advisory board, has an amazing story of growth and achievement in her own life and family. She and her husband both have degrees in the medical field, she a Registered Nurse, and he a Cardiologist. Their heart for healing is apparent in the goals they've set for themselves, to serve others, and improve the quality of life in everyone they meet.
Paula came to us due to a long standing relationship with our instructor, Kristen. Paula grew up riding her neighbor's horses but never had the opportunity for formal instruction. When she had her daughter, Jenny, in 1995 she inevitably passed down the same horse loving gene to her! She introduced Jenny to the world of horses at a young age when she enrolled her in lessons at a program in Powder Springs where Kristen worked at the time. Fast forward years later and Jenny is now a successful 4* International rider with her sights set on the U.S. National team, and the Caras' have relocated to Cartersville to enjoy their own farm full of horses and fur babies! From watching her daughter grow up in the sport, and the undeniable bond between horse and human, Paula now has a goal of sharing their passion to those who may not be aware of its power! She says she has more fun taking care of her horses and seeing their personalities than she did when she was riding them!
We are eager to have her knowledge of industry and her heart on our advisory board. She recently stated, "I'm very excited to be a part of such an amazing organization that touches and changes so many lives by connecting special needs children and adults to horses". We welcome Paula and we are just as excited to have her join us on this journey beyond!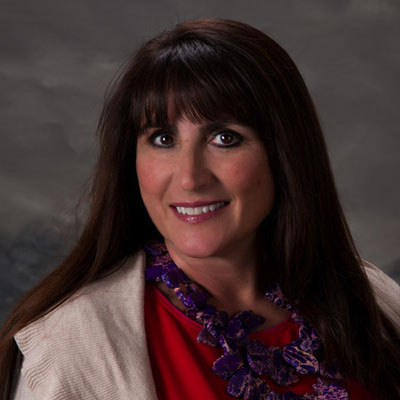 Karen Carter
Karen joined Beyond Limits in October 2015 as an advisor. Karen is a successful leader with over 28 years of experience in non-profit management, marketing, business development, event planning, leadership development, child advocacy, education, restaurant management and store/area retail. She has a demonstrated proven ability to develop comprehensive written and verbal communications in a variety of mediums. An articulate public speaker she can clearly communicate vision, mission, and strategy regardless of content or audience type. Amongst her key strengths are her exceptional relationship building skills; able to lead, motivate, and develop successful teams along with a proven track record of events planning success from conception to execution at both the local, regional, and national levels. Her superior commitment to client satisfaction, attention to detail, and product quality are key factors to her success.
Karen has 20 years of non-profit leadership developed during her time supporting a variety of charitable organizations such as Girl Scouts, Boy Scouts, an elementary school foundation, and several roles in the PTA in Georgia, Washington, and California. Karen is a 2010 graduate of Leadership Cobb and a 2012 graduate of Honorary Commanders.
Karen is currently the Executive Director of the Cobb Collaborative and as such has responsibility for member recruitment and retention, designing capacity building workshops, grant management, and engaging the non-profit community through networking opportunities. Utilizing a team of peer and community volunteers, Karen facilitates an annual one million dollar grant provided by the local county government. Karen represents Region 3 of the Georgia Family Connection Partnership at the monthly state-wide peer to peer meetings.
Originally from Southern California, Karen moved to Cobb County from Washington State sixteen years ago with her husband and two children. Her oldest daughter is graduated from the University of Georgia while her son is currently enrolled at Kennesaw State University. Her husband Mike is a Director in Human Resources and is employed by Amazon. When Karen is not volunteering her time, she enjoys going to concerts, traveling with her family, and tailgating.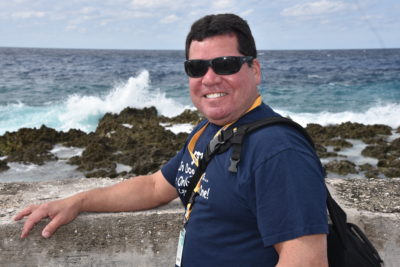 Howard Oviedo
Howard is a co-founder of Beyond Limits Therapeutic Riding and his enthusiasm for our mission is contagious. In addition to being a member of the advisory board, Howard handles all technology related functions of Beyond Limits such as maintaining the website, information security for the organization, and computer operations. Most would agree his most important role is the resident photographer who always Goes Beyond! He volunteers his talents, personal equipment and time spending countless hours creating ever-lasting memories for the riders and volunteers of Beyond Limits.  You can usually catch him behind the camera, shooting at every fundraiser, event and horse show. He ensures every family has an on-line photo album from Special Olympics, riding lessons at the barn, and other horse shows the organization hosts or attends.
By trade, Howard has been an Information Technology (IT) professional since he earned his Bachelor of Science degree in Electronic Engineering Technology from DeVry Institute in 1982. He is a Certified Information Systems Security Professional (CISSP) and currently works in the Managed Security Systems Division of IBM Corporation, where he is approaching his 12th anniversary. His 35 years' experience in IT has included 20 years with Hewlett-Packard and 4 years with Internet Security Systems.
When he's not doing technical stuff, Howard enjoys getting away from the office to the serenity of the barn and helping with the Beyond Limits program.  Howard has a heart for special needs children and has also worked with children battling childhood cancer as a summer camp counselor with Camp Sunshine, an organization providing a week of fun and respite for children fighting cancer. Howard selflessly took a week of personal vacation time for 13 years to help those at camp remember what it was like to be a kid before they were sick, without the doctors, hospitals and clinics.   Howard is known for his ability to be able to make any child laugh and is very generous with his time for anyone in need.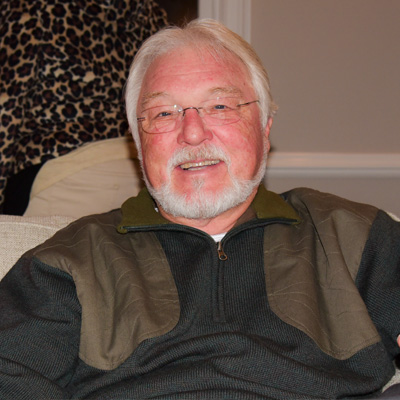 Jody Parker
Jody joined Beyond Limits Therapeutic Riding in the spring of 2014 and has been a constant stream of support for the organization since that time. Jody assists in securing funding, seeking donors, attending monthly board meetings, volunteering at the barn, and provides overall guidance in the day-to-day operations. Jody is a Retired BellSouth District Manager for Corporate and External Affairs and is very actively involved in the community. His current memberships are:
Tabernacle Baptist Church
National Sporting Clays Association (Certified Level 1 Instructor)
Bartow History Museum
Tellus Science Museum
Booth Western Art Museum
Etowah Valley Historical Society
Rome Wildlife Association
Barnsley Gardens Shooting Club.
Jody formerly served as the chairman of the board of directors of the West Georgia Science and technology Center; was on the Board of Directors for Bartow United Way; Bartow Habitat for Humanity; Cartersville Bartow County Chamber of Commerce; Area 1 Economic Development Council; Cartersville Zoning Variance Council. Jody also served as Chairman of the Board of Directors for the Etowah Foundation and North Metro Technical College (Incorporated into Chattahoochee Technical College).
Jody is happily married to Cheri, the love of his life, for 46 years. He has a daughter and son, a wonderful daughter in law and son in law, and a total of 5 grandchildren whom he loves to spend time with. You will have to go deep into the woods during hunting season to find him as he is an avid hunter and fan of any outdoor activity.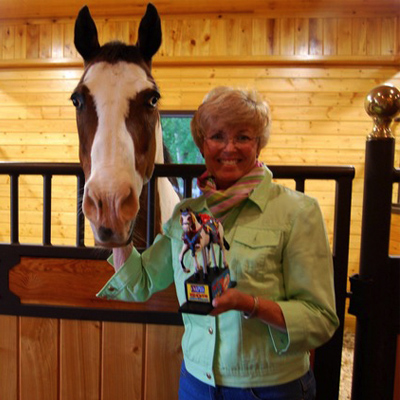 Jackie Thompson
Jackie joined Beyond Limits in October of 2014. She happily assists with anything that is asked of her. She has an amazing talent of connecting Beyond Limits with appropriate resources within the community. Jackie serves as a bridge to the community and assists in the overall strategy and direction of the Beyond Limits vision. Jackie graciously opens her home to the board every month to host our meetings.
As a child she was instilled the love of horses by her paternal grand father. Being a life long equestrian with a philanthropic heart, the connection to Beyond Limits was only natural. Jackie is a native of Atlanta and transplanted to Cartersville in 1997 to what she calls "God's Country". Her move to Cartersville was a wonderful life change. Jackie lives on her farm in Cartersville and has 2 horses and 3 minis.
Jackie is a retired graphic artist. She is married to the same wonderful man, Randy Thompson, since 1978! They have a daughter and a 5-year-old grand daughter who is the light of all their lives. Her daughter and her husband are avid polo players, so the equestrian bond continues.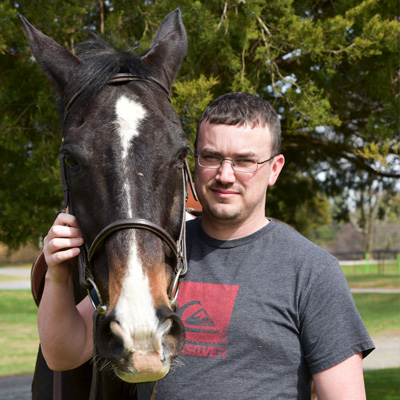 Jeb White
Every committee member has a certain quality or qualification that separates them from the others.  Some are the dreamers, some the communicators, others the spokespeople.  Jeb has the important job of being our realist.   He keeps our feet on the ground and finds the logical ways to turn our big visions into reality.
His 12 years of service in the U.S Army has well equipped him to handle any situation, and advise us on the best strategy to achieve certain goals. He is now Medically Retired from the military and found his second home when he joined us in 2015.  Jeb started as a volunteer looking to give back while attending Kennesaw State University and is now a valuable asset both at the barn and on the board.  He started noticing the horses brought a sense of healing and peace to him, and he knew the possibilities could be endless as more people could benefit from their calming nature.
Jeb now serves as a volunteer Barn Manager, is in charge of volunteer training, and assists with hippotherapy and therapeutic riding lessons.   He actively seeks funding for the organization and will do any task asked of him with a willing heart. Under the guidance of our PATH instructor, Kristen Moreland, Jeb is now preparing to complete his certification to teach as well.  We are honored to have his experience and insight influencing our advisory board and know there are more great things ahead for this hero!